In 2021, the Ministry of Defense will receive an improved measurement and control vehicle that validates the jammers (Jammers) against radio-controlled Improvised Explosive Devices (IEDs). This is done with TESt Lane Analysis Mobile (TESLA-M).
In many cases, IEDs are detonated remotely using a variety of wireless techniques, ranging from cell phones to doorbells. In order to suppress its signals in a broad electromagnetic spectrum, the Defense organization uses jammers, called Jammers, for both personal and vehicle security. This equipment can be programmed and operated using the TESLA-M; a high-quality mobile measuring set-up with which various types of Jammer configurations can be tested.
In mid-2020, the Netherlands Defense Materiel Organization awarded a contract to Rohde & Schwarz Benelux (main contractor) in collaboration with partner Contour Advanced Systems (integrator). The contract includes the supply of state-of-the-art measuring instruments for installation in a van. In addition, a 9-year maintenance program is part of the contract.
The state-of-the-art measuring instruments are installed in a 4×4 Mercedes Sprinter van. The initial design of the TESLA-M has been refined in recent months, in collaboration with users from the Defense Expertise Center, DEC-IED and specialists from TNO.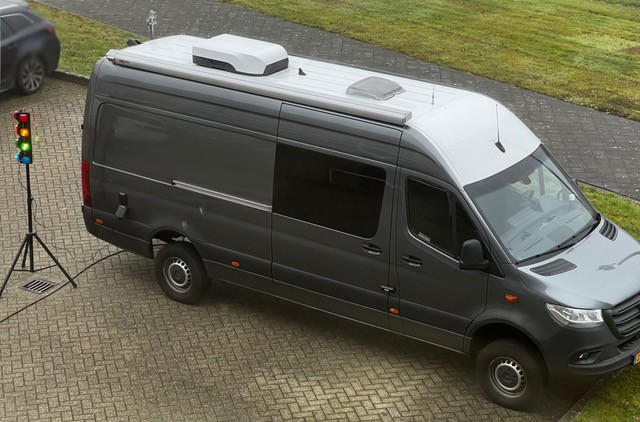 Due to the corona restrictions in force, the official transfer to the Defense Materiel Organization took place in January 2022. On behalf of their organizations, Col Stoetman (DMO) and Mr. Walraven (RSBNL) signed the Declaration of Acceptance and after a short presentation of the system, the transfer was completed.
Rohde & Schwarz is proud to contribute to this system, which provides military personnel with better protection against these types of current and future threats.