The United States and the Netherlands need to cooperate more intensively to meet current and future challenges in defence and security, that was the overall conclusion of the NL-US Defense Industry Days that took place Oct. 12 and 13 in Washington D.C. As countries with strong shared values, we need each other for innovation and strong supply chains in the increasingly complex world.
With growing international competition, the pressure on the defense industry in both the U.S. and the Netherlands has increased dramatically. Both the quality and quantity of production is under pressure in both countries. This can only be adjusted by improving processes, reviewing barriers and creating a stable base in which companies can take the risks necessary to advance capabilities and technology.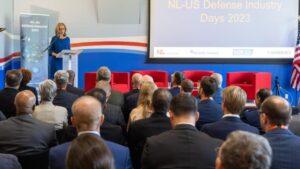 With nearly 150 representatives from both countries, the 2023 edition of the Defense Industry Days was the largest yet. A good indication of bilateral interest and interests to work together. The AUSA trade fair that took place the same week in D.C. was also seen by many as very valuable, as was the visit to Northrop Grumman's corporate headquarters.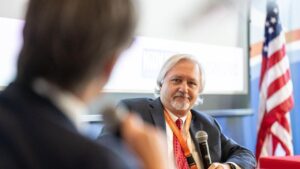 The NL-US Defense Industry Days 2023 were organized by the Dutch Embassy in Washington D.C., the NIDV, Spacened, in cooperation with the Atlantic Council.